Marenna: Hard Rock and Bluesy set new music video on fire!
Continuing the hard work in promoting the excellent and recently released album «Voyager», the Brazilian Melodic Hard Rock band MARENNA releases «Out Of Line», the fourth single and music video taken from the new album.
The song «Out Of Line», since its embryonic stage of composition, had the idea of bringing the influences of the Blues to the 80's Hard Rock that Rod Marenna, leader and founding member, brings in his musical background. During its pre-production, other elements were added, such as the guitar, slide guitar and a solo with talk box (effect used in the classic «Livin' On A Prayer» by Bon Jovi).
Watch the music video for «Out Of Line» at HERE!!
Rod Marenna comments
… that «this song came from a direct and catchy riff that came naturally in one of the jams he did with drummer Arthur Schavinski, one complementing the other in perfect harmony. Its lyrics, among many on «Voyager», are another strong point, as they make a counterpoint between the consciousness of the individual questioning himself to the point of discerning that to be what he really wants, he has to accept his own essence, and 'let die' who he once was. «It's paying the price for your actions», Rod explains, dedicating the song and video to the more «thick-shelled» and those who don't bend easily.
With all this in mind, the concept of the music video for «Out Of Line» was to go for something darker and more organic, showing the integrated band performing the track like in the beautiful hard rock videos that were constantly on in the beginning of MTV.
«It's a song that makes you travel in the western atmosphere! Hard rock with lyrics that point a finger and make you understand that you don't need to be what others want you to be, but you need to be you, no matter who it hurts!», explains Rod Marenna.
Datasheet for «Out Of Line»:
Concept by Rod Marenna
Directed and Filmed by Johnny Brando
Edited by Luks Diesel
Music by Rod Marenna and Arthur Schavinski
Lyrics by Rod Marenna
Studio guitars by Mauro Caldart
Backing vocals by Leandro Moretti
Vocals line produced and recorded by Arthur Appel (Broken Glass Studios)
Mixing and mastering by Jonas Godoy (Linha Sonora Studios – Caxias do Sul/RS)
Produced by Mauro Caldart
Special thanks to Giovane Cesa, Leandro Moretti and Alex Reck (Arch Cultural Hub).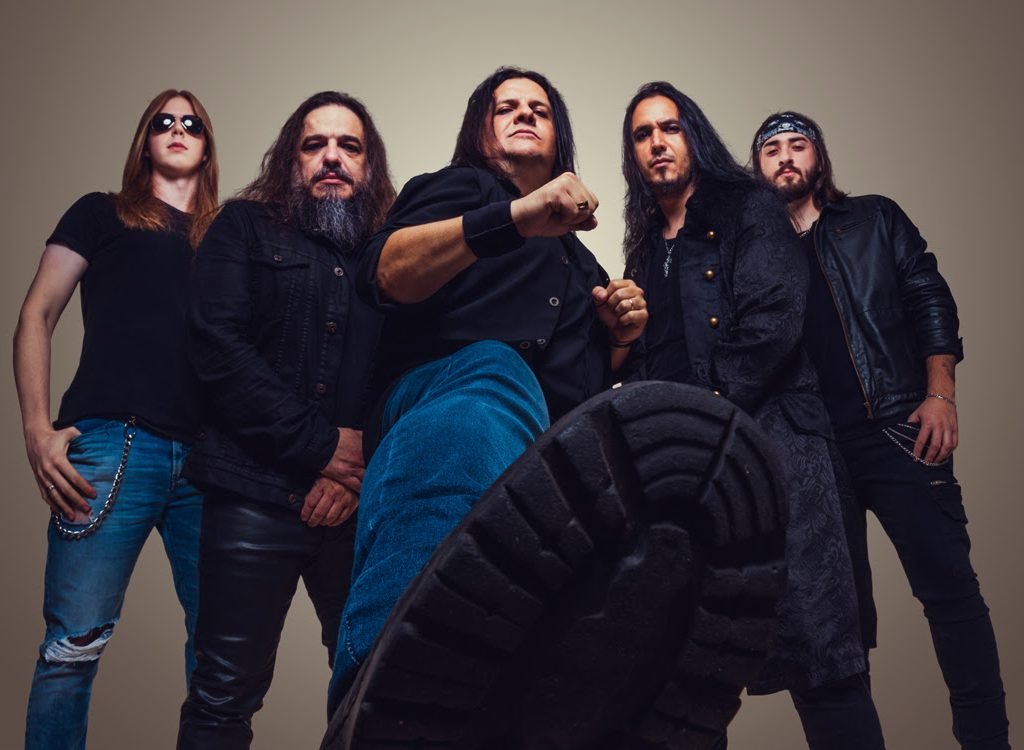 «Voyager», the quintet's fourth studio album, offers 11 tracks (and an exclusive bonus track for the European physical edition) that overflow energy and identity, wrapped in a crystalline and modern production. The first three singles, «Breaking The Chains», «Wait» and «Voyager» represent very well, the new more mature phase that the band has been developing over recent years, and bring the striking touch of MARENNA's concise DNA inserted in a well-balanced mix of elements of Heavy Metal and Melodic Rock with high doses of melody.
The energy, the typically 80's choruses, and the sound influenced by the great bands of the past and present, make «Voyager» one of the great highlights of this year.
«I believe I was able to gather the best songs and work with the best team of professionals, in the most efficient and viable way possible, even though everything was done remotely. The result exceeded all our expectations, which are the best for this release», concluded Rod Marenna.
Stream «Voyager» on the main digital platforms
The album was released in physical format (CD) abroad by the Danish label Lions Pride Music and in Brazil by the partnership between labels, Classic Metal Records and Heavy Metal Rock.
MARENNA's current line-up is Rod Marenna (vocals/backing vocals), Luks Diesel (keyboards/backing vocals), Edu Lersch (guitars), Bife (bass) and Arthur Schavinski (drums/backing vocals).
More information:
The brazilian band MARENNA, formed in 2014 and led by the experienced vocalist/songwriter with over 30 years of career Rod Marenna, bets on Melodic Rock and produces a hybrid blend between Classic Hard Rock and AOR (more commercial style, aimed at adults, trendy on FM Radios and soap operas of the 80s and 90s) in modern and crystal clear productions. Incorporating melodic layers of keyboards, guitars and vocals, and bringing into their compositions, situations from modern day life, highlighted by messages of optimism, resilience and faith, their mission is to rescue the best days of Melodic Hard Rock. Their rich discography is available on all digital platforms and also in physical version.
Para fãs de: Whitesnake, Skid Row, Dokken, Def Leppard, Journey, Bon Jovi, Eclipse, H.E.A.T.
Discography:

"My Unconditional Faith" (EP/2015)
"No Regrets" (Album/2017)
"Livin' No Regrets" (Live) (Album/2018)
"In Your Face" (Acoustic Live) (Album/2021)
"Pieces Of Tomorrow" (EP/2021)
"Voyager" (Album/2022)
EDICION SEVEN ROCK RADIO